The RX-78-2 Gundam (aka the Gundam or the White Mobile Suit) is the titular mobile suit of Mobile Suit Gundam. Part of the RX-78 Gundam series, it was built in secret on Side 7. The Gundam would turn the tide of war in favor of the Earth Federation during the One Year War against the Principality of Zeon. The unit was primarily piloted by the series' main protagonist Amuro Ray.
Type A (Beam Rifle)
Edit
UNIT-DATA
Limit
175%
Sensor Rating
C
HP
320
Mobility
32
Movement Range
7
Supply Capacity
160
Supply Consumption
20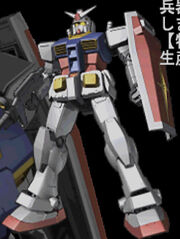 SPECIAL-DATA
セイアシ・カノウ
Bipedal/Foot?
ブソウヘンコウ・カノウ
Can change armament?
ガッタイ·カノウ
Can Dock?
シールド・ンウピ
Has Shield
ダッシュツキコウ·ソウビ
Has escape mechanism?
Unit Terrain Efficieny
Plains
Desert
Mountain
Forest
Snow
Sea
Air
Space
Efficiency
Good
Poor
Poor
Good
Poor
N/A
Poor
Good
| | | | |
| --- | --- | --- | --- |
| WEAPON-DATA | ATTACK | HIT | RANGE |
| Beam Rifle | 150 | 70 | 1-1 |
| Head Vulcan | 20 | 50 | 1-1 |
| Beam Sabre | 135 | 75 | 0-0 |
| | | | |
| | | | |
Weapon Terrain Efficiency
Plains
Desert
Mountain
Forest
Snow
Sea
Air
Space
Efficiency
Good
Poor
Poor
Good
Poor
Poor
Poor
Good